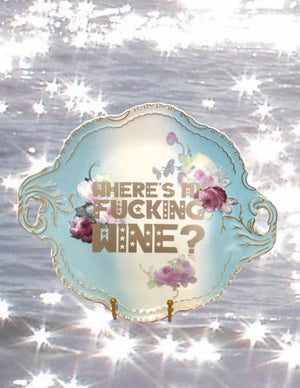 WHERE'S MY FUCKING WINE? SERVING PLATTER
Description
Where's My Fucking Wine? 13" Vintage Serving Platter
This piece is upcycled using permanent vinyl & is food safe or makes the perfect display statement piece.  

All of our vintage pieces are one-of-a-kind. If you would like to place a custom order, please send us an email to hello@shopnineteen88.com.

Label
Upcycled by Shop 1988 in Houston, TX.

Condition
Perfect

Care Instructions
We recommend that you hand wash this baby.