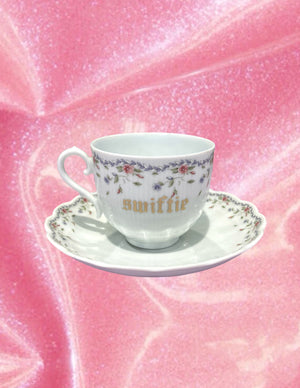 "SWIFTIE" FLORAL TEACUP AND SAUCER SET
Description
"Swiftie" 3" Vintage Teacup with Saucer Set
This teacup and saucer set is upcycled using permanent vinyl and is safe to use.
All of our vintage pieces are one-of-a-kind. If you would like to place a custom order, contact us: hello@shopnineteen88.com to make your dreams come true.
Label
Upcycled by Shop 1988 in Houston, TX. 
Condition
Excellent
Care Instructions
We recommend that you hand wash this baby.